The School of Architecture welcomed future architects from across the nation and around the world to Slocum Hall this summer as part of two programs focused on architectural study.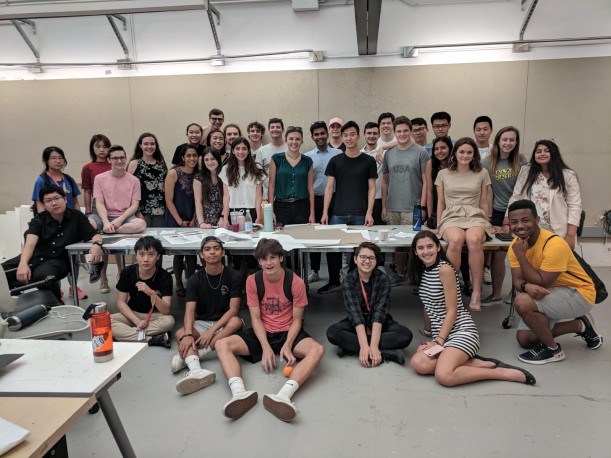 Summer College Architecture students and instructors
Between June 29 and July 26, a total of 36 high school students participated in the Summer College Architecture program. As one of Syracuse University's most popular pre-college summer programs, rising seniors were invited to build their understanding and appreciation of architecture by living the life of an undergraduate architecture student for four weeks.
Taught this year by Syracuse Architecture Assistant Professors Greg Corso and Molly Hunker and assisted by teaching assistants Prerit Gupta '20, Tanvi Rao '20, Hannah Michaelson '20 and Hao Zheng '20, the program is structured to help students decide whether to pursue study in a professional architecture school or in a related field by introducing them to basic architectural design principles and problem solving.
"The Summer College program is particularly exciting for us because it's an opportunity to work with bright young students who may have never done anything like this before," say Hunker, speaking for herself and Corso. "For us it's an opportunity to teach fundamentals and inspire a trajectory in design, even before a student has decided on where they will go to college and what they will study."
Students spent their mornings working alongside faculty and TAs learning drawing techniques, exploring cutting-edge software and conducting hands-on model making. Afternoons, evenings and some weekends were spent in Slocum Hall's design studios, where students worked on exercises and design projects that explored concepts ranging from spatial hierarchy, aggregation, variation and organization to scale and program.
The program also included special activities such as guest lectures and field trips to explore significant buildings at the Everson Museum of Art, the Syracuse Center of Excellence, the Storm King Art Center and the Cornell University campus.
Students frequently presented their work for discussion and critiques during the course of the program, including a final design review with a School of Architecture faculty panel and a closing exhibition for students, faculty, friends and families. Every student who finished the program left Syracuse with the beginnings of an architecture program application portfolio.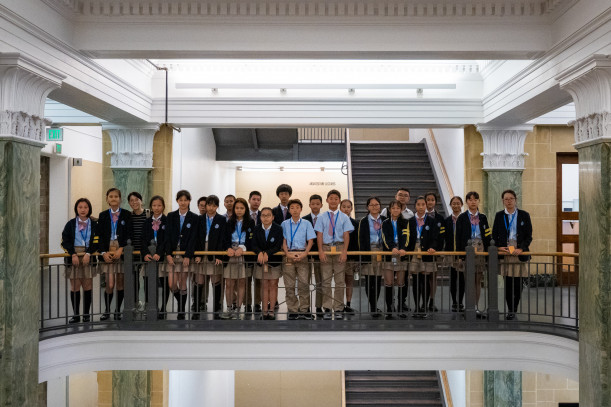 Shenzhen Mingde Experimental School middle school students in Slocum Hall
Syracuse Architecture also hosted 22 middle school students from China for its annual Shenzhen Mingde Experimental School Summer Workshop. This two-week program, held in July, introduced students to the tools, methods and operations necessary to engage in the fundamentals of architectural design.
Led by Syracuse Architecture Assistant Professor Kyle Miller and assisted by teaching assistants Clarissa Lee '19, Furui Sun '19 and Ziyu Zhan '20, the workshop was organized around a single design project divided into a series of short, interconnected exercises ranging in duration from one day to three days. Students explored concepts such as generation of space, form making, composition and collaborative design through assigned media and methods, including drawing and modeling, both essential to developing a rich design process.
"Throughout the two-week design workshop, a combination of individual tasks, collaborative exercises and group discussions enabled the participants to become familiar with fundamental architectural design principles. The students achieved a remarkable level of conceptual clarity in their drawings, models, and verbal presentations," says Miller.
In addition to the design exercises, the workshop included guest lectures by Syracuse Architecture faculty as well as field trips to the Everson Museum of Art, the Milton J. Rubenstein Museum of Science & Technology, the Chancellor's House and The Wild.
A final exhibition at the end of the workshop enabled each student to situate their work in relation to that of their peers and to exhibition themes. Architecture faculty and staff also held a graduation ceremony for the students prior to their departure.
Shenzhen Mingde Experimental School is a K-12 public commission management school supported by a "Framework Agreement for Cooperation in Education" signed between the Futian District Government of Shenzhen and the Tencent Charitable Foundation.