California architect Hsinming Fung, AIA—a lifelong advocate for the arts and architecture education—will address the graduating class of 2017 at the Syracuse University School of Architecture convocation ceremony on Saturday, May 13th at 9:00 am in Hendricks Chapel at Syracuse University.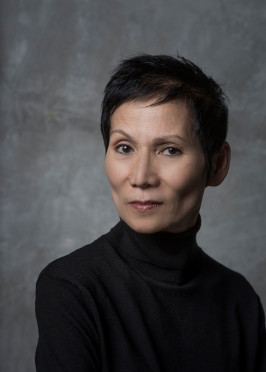 Dean Michael Speaks will preside.
"It is a special honor to have Ming Fung speak to our graduating class this year," says Dean Speaks. "Ming is principal of Hodgetts + Fung (HplusF), an award-winning architecture and design firm in Culver City, California. She is also a leader in architecture education, having served as president of the Association of Collegiate Schools of Architecture (ACSA), and as a faculty member and administrator at the Southern California Institute of Architecture (SCI-Arc) in Los Angeles. I cannot think of anyone better suited to speak to our students as they embark on the next chapter of their lives as architects."
Hsinming Fung co-founded design firm HplusF with Craig Hodgetts in 1984. The studio is noted for its expertise in the design of unique places for learning, cultural events, and civic functions. With complementary backgrounds in urban design, architecture, and industrial design—Fung as director of design and Hodgetts as creative director—the duo have a singular ability to integrate divergent needs in order to create memorable designs for significant projects. Their approach to this work is multifaceted—embracing visitor experience, technology, and iconic presence in a disciplined process resulting in a bold, uncompromising architecture. This method has been instrumental in achieving a fusion of architecture and contemporary culture.
In 2008, HplusF was named AIACC Firm of the Year and, in 2006, awarded an AIA/LA Gold Medal. Award-winning projects include the design of the renovated Hollywood Bowl, Menlo-Atherton Performing Arts Center, CalArts' Wild Beast Pavilion, Jesuit High School Chapel, and Nashville's new Ascend Amphitheater. Current projects include the renovation of Culver City's historic Robert Frost Auditorium and a West Hollywood mixed-use development.
Previous to SCI-Arc, Fung has taught at Yale, Ohio State, and Cal Poly Pomona. In 2001, she was appointed by President Bill Clinton as a council member of the National Endowment for the Arts, and has served as a national peer for the General Services Administration.