The School of Architecture undergraduate program has been ranked #3 in the nation and the graduate program #8 by DesignIntelligence, the bimonthly journal of the Design Futures Council, considered the leading source of school rankings within the design sector.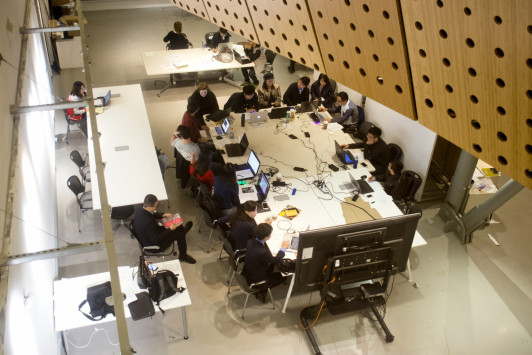 Assistant Professor Fei Wang's graduate students participate in workshop led by visiting architect Na Wei in October.
In addition, Syracuse Architecture Dean Michael A. Speaks was selected as one of "25 Most Admired Educators for 2016-17."
The undergraduate program has been ranked in the top 10 every year since 2004. After re-entering the top 20 in 2014 with a #16 ranking, and a #11 ranking in 2015, this year the graduate program broke into the top 10 for the first time in school history.
The rankings are based on a professional practice survey completed by nearly 3,000 leading architecture and design firms, as well as 145 deans and academic chairs, on which schools "best prepare students for a future in the profession and designing a sustainable future." This year's rankings made special note of Syracuse Architecture's strengths in areas of communication skills, construction methods and materials, cross-disciplinary teamwork, design and planning.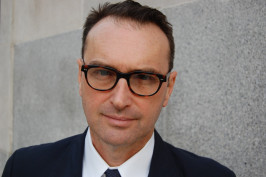 Dean Michael SpeaksAccording to DesignIntelligence, "Speaks is raising the repute of his college especially on issues of sustainability and research in urban planning, where he is raising the communications discord from theory into strategic intelligence. He has great knowledge on the potential action agenda for a profession in transition."
"It's an honor to be recognized," says Speaks. "In an increasingly competitive global marketplace, Syracuse Architecture has not only maintained its high ranking and excellent reputation, but, thanks to our dedicated faculty and staff, we have moved up the last three years in the undergraduate rankings and have, for the first time in school history, broken into the top 10 in graduate rankings.
Speaks became dean in July 2013 after serving as dean of the College of Design at the University of Kentucky. Founded in 1873, Syracuse University School of Architecture is one of the oldest architecture schools in the United States. As a result of the professional accreditation review process that took place in April 2016, the National Architecture Accrediting Board (NAAB) has awarded the school full accreditation for the maximum term of eight years. (by Elaine Wackerow)