The School of Architecture celebrated Orange Central Homecoming Weekend with several events held on Friday, September 16, including an open house for returning alumni and friends in the beautiful Slocum Marble Room.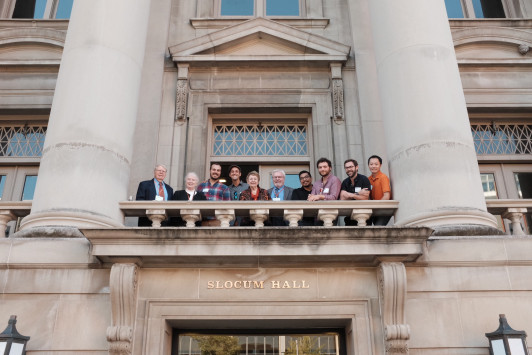 L to R: R. Lafferty, J. Lafferty, J. Leyssene, L. Perez, S. Burger Sullivan, A. Sullivan, D. Tadiar, A. Chukhman, A. Sheraden, S. Tam
A warm, late summer afternoon provided a perfect opportunity to open the doors to the Slocum balcony. During the open house, students Stephanie Wagner '19, Caroline Barrick '19, and Sukhmann Aneja '20, gave tours of Slocum Hall to interested alumni including Richard '56 and Janece Lafferty, and Sylvia Burger Sullivan (VPA '56) and Alex Sullivan. Richard and Sylvia came back to campus to celebrate their 60-year reunion. Heather Murtagh-Miller '09 and Paul Miller '09, members of the Generation Orange Committee, stopped by to say "hello" and grab some refreshments before heading out to enjoy other Homecoming events.
Several members of the class of 2006 came to campus to celebrate their 10-year reunion. Arthur Chukhman, John Giles, Julien Leyssene, Leonardo Perez, Adam Sheraden, Siu Tam and Dino Tadiar traveled from areas around the country including Los Angeles, Vermont, New York City, Syracuse, and also the island of St. John, Virgin Islands.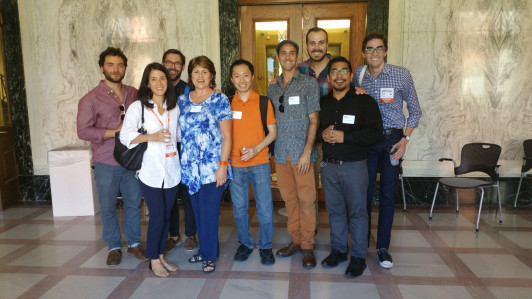 L to R: A. Chukhman, H. Miller, A. Sherden, C. Caldwell, S. Tam, L. Perez, J. Leyssene, D. Tadiar, P. Miller
Following the open house, Connie Caldwell, director of career services, kicked off her "Life after Slocum" series geared toward thesis students. She moderated a panel featuring class of 2006 alumni who presented summaries of what they've been doing since graduation. Over 40 people, from all class years, attended the event. (by Sherry Hayes)