The jury for the American Institute of Architects (AIA) Upjohn Research Initiative has announced five grant recipients of its Upjohn Research Initiative, including Nina Sharifi, assistant professor in the School of Architecture.
Sharifi will receive $25,000 to research and produce an Envelope Retrofit Guide to assist architects working on net-zero retrofit projects.
Now in its 13th year, the AIA Upjohn Research Initiative supports applied research projects that enhance the value of design and professional practice knowledge. The Upjohn program funds up to six research grants of $15,000 to $30,000 per recipient annually for projects completed within an 18-month period. This year's recipients will research reducing energy use and carbon in buildings.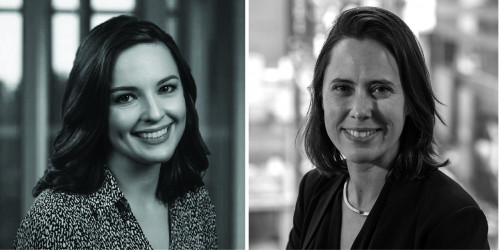 Nina Sharifi, left, and Gabrielle BrainardSharifi—along with Gabrielle Brainard, passive house architect and visiting associate professor at the Pratt Institute who specializes in enclosure design—will use the funds from the Upjohn Research Initiative for their project, "Envelope Retrofit Guide: Net Zero Energy Ready Strategies for Existing Buildings."
Responsible for over half of the carbon emissions, much of the existing building stock in New York state is ill-equipped to meet increasingly stringent city, state and international energy codes and greenhouse gas reduction targets like the New York City Climate Mobilization Act, which calls for the state to all but eliminate its greenhouse gas emissions by 2050.
While it's crucial to improve the performance of these existing buildings, the magnitude of this task is sobering. Design professionals are essential in this transition, but few comprehensive guidance documents exist to help architects retrofit existing buildings to net-zero ready standards. And many architects don't have the technical expertise in building science to evaluate retrofits strategies on their own.
Focusing on the building envelope—an essential component of net-zero projects that, unlike mechanical systems, is the primary responsibility of the architects—Sharifi and Brainard's guide will provide technical advice at a schematic level on a variety of retrofit strategies for mass-masonry and wood-frame buildings, two of the most common residential construction types in New York state.
By considering a variety of materials and systems, as well as their implications for performance, constructability, durability, cost and embodied energy, the guide will provide technical information to architects in the early stages of design, and help them evaluate buildable, cost-effective approaches to retrofit projects for the some of the most common building types in the U.S.
"Given the ambitious deep energy retrofit goals set forth by New York state agencies for existing buildings, we anticipate the need for architects to have access to research-based design resources in order to take the lead in meeting demand," says Sharifi. "Our goal with this work is to provide such a resource by linking information about climate, regionally predominant building types and material detailing in one place."
The Envelope Retrofit Guide will serve professionals engaged in the design and construction of multi-family housing: architects and consultants; manufacturers and builders; building owners and developers; city and state agencies, energy and utility companies; and NGOs.
This year's grant recipients were selected by a seven-member jury composed of members from the AIA College of Fellows and Board Knowledge Committee and chaired by Jessica Sheridan, AIA, Mancini Duff. Other members included Andrea Love, AIA, Payette; Laura Lesniewski, AIA, BNIM; Vincent Della Donna, AIA, ACHA, Vincent Della Donna Healthcare Consulting; RK Stewart, FAIA, RK Stewart Consultants; Lee Becker, FAIA, Hartman-Cox Architects; and John J. Castellana, FAIA, TMP Architecture.
To learn more about the five research projects selected to receive funding, visit the AIA Upjohn Research Initiative.