The School of Architecture has invited the monks of Namgyal Monastery Institute of Buddhist Studies to ritually construct and then disassemble a sand mandala dedicated to Chenrezig or Avalokiteshvara, the boddhisatva of compassion. These cultural ambassadors have become well known for the creation of sand mandala exhibitions in museums and galleries throughout the world.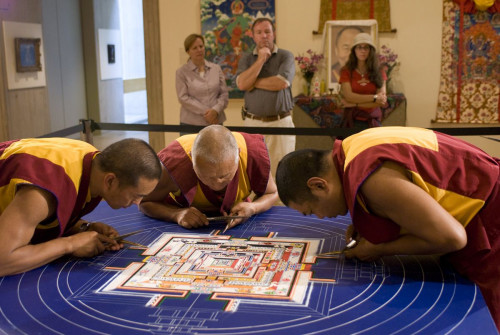 A mandala is a visual prayer as well as a symbolic universe. Each mandala is a sacred mansion, the home of a particular deity, who symbolically represents and embodies qualities like compassion. In the Tibetan Buddhist tradition, mandalas are created for rituals of initiation in which a highly qualified teacher grants permission to advanced disciples to engage in the meditation practice of a particular Tantric deity. Both the deity, which resides at the center of the mandala, and the mandala itself are recognized as pure expressions of a Buddha's fully enlightened mind. For the Tibetan Buddhist, the mandala displays the architecture of exaltation, the inspiring three-dimensional ream of Buddhahood, built in a purified imagination. This realm is achieved through a heightened state of clarity and stability of visualization combined with deep insight and a radical transformation of the mind. Creating the Avalokiteshvara mandala in the School of Architecture will juxtapose the classical geometries of the Tantric mandala against the Beaux-Arts dimensions of Slocum Hall (Frederick W. Revels and Earl Hallenback, 1916-1919).
An opening program will take place at 10 a.m. on Wednesday, April 23nd and with a closing ceremony at 1 p.m. on April 29th.
This event is part of the Syracuse University Humanities Center's Syracuse Symposium theme of "Silence" and is co-sponsored by the School of Architecture, SUArt Galleries, the Moynihan South Asia Center, the Department of Art and Music Histories, and the Department of Religion.