Join us as we welcome John Algeo '78 (B.Arch) back to campus. John will talk about his career with the Walt Disney Company and his journey as an "imagineer" at Disneyland California Adventure as well as DisneySea in Tokyo. "Imagineers" are the creative engine that designs and builds various aspects of the magical and wonderful world of Disney!
About John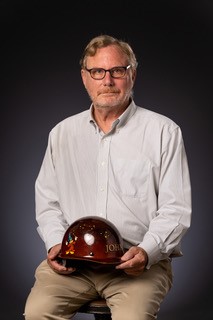 John Algeo graduated from Syracuse University School of Architecture in 1978, where he attended the Florence Program and the Architectural School of Architecture in London. 
The path to Imagineering was not intentional but built on a variety of experiences and relationships. Upon graduation, John took a position as a Restoration Specialist with Syracuse Model Neighborhood renovating houses around the State Street area. F. Kirk Helm '38 (B.Arch) G'39 (M.Arch) at Neptune & Thomas Associates in Pasadena, CA, hired John as a renovation specialist and junior designer.
John moved on to work with Viniegra & Viniegra Architecture and became a partner in 1992. The firm received the Los Angeles Cultural Affairs Design Excellence Award for the Balboa Park Community Center. The 1992 recession wiped out most work for architects in Los Angeles so John took advantage of the break to design and build his family residence in South Pasadena, CA.
John joined Dworsky & Associates, the Executive Architect for the Walt Disney Concert Hall designed by Frank Gehry, as the Project Architect in charge of the metal skin assembly. Work stopped on the concert hall to align the budget.
R. Steven Lewis '79 (B.Arch) hired John at RAW Architecture. He was Project Architect for the California Science Museum in partnership with Zimmer Gunsul Frasca. Meanwhile, a few architects from RAW Architecture had moved on to Walt Disney Imagineering and asked if John would like to work at Imagineering.
Walt Disney Imagineering hired John where he became Land Lead Project Architect for Disney California Adventure, Main Entry, and Backlot Hollywood. John's career at Imagineering includes attractions, theaters, restaurants in the Disneyland Resort, Hong Kong Disneyland, Tokyo Disney Resort, Walt Disney World, and Shanghai Disneyland Park.
The School of Architecture is taking questions in advance for John. Please send your questions to Sherry Hayes, development associate, to allow us time to curate an exciting Q-and-A after John's presentation.