Accretion
: a gradual process in which layers of a material are formed as small amounts are added over time
: something that has grown or accumulated slowly
: a product or result of gradual growth

Merriam-Webster Dictionary
As explored by Wolf Hilbertz in his article "Electrodeposition of Minerals in Sea Water: Experiments and Applications" accretion is the artificially induced accumulation of minerals onto a prefabricated metal mesh framework. Running low-voltage direct-current electricity through the mesh allows it to function as a cathode1 in an electrolyte solution of mineral rich sea water. This, in turn, encourages the mineral content of the solution to precipitate, bonding to the metal cathode.
Originally noted as a means of preventing hull corrosion,2 as it coated vulnerable metallic surfaces in a layer of precipitated salts and minerals, the inherent structural potential of the accreted layer remained unexplored. In Hilbertz's experiments it is that structural potential which is tested.
By running numerous tests for various lengths of time and in different locations, Hilbertz sought to document rates of accretion and mineral composition based on the experiments' location, as the dissolved content of seawater varies by location. These experiments provided 'proof of concept' for the creation of artificial reefs with far less labor than conventional dumping methods.
Prefabricating reef components out of lightweight metal mesh allows for easy transport to location. By then connecting the mesh to a low-voltage direct-current power source, like a bank of car batteries, the mesh is gradually built up with layers of minerals drawn out of the sea water itself. As an artificial reef, the submerged components remain in place, with occasional maintenance of the power source and the potential addition of connecting elements to enlarge the reef structure.
As a theoretical architectural project, Hilbertz imagined that this process of electrodeposition might allow for the aquatic farming of buildings. Couple this process with a floating array of photovoltaic panels, and the system might be relatively maintenance-free.
"Preliminary investigations indicate that the mineral accretion process produces a very suitable substrate for marine growth and, at the same time, a strong primary building material."
(W. Hillbertz, 1979; p.6)
1 Cathode - the negatively charged electrode in an electrolyctic cell.<
2 Study by Davy discussed in J. H. Morgan, Cathodic Protection. New York: Macmillan, 1960, ch. I , p. 3.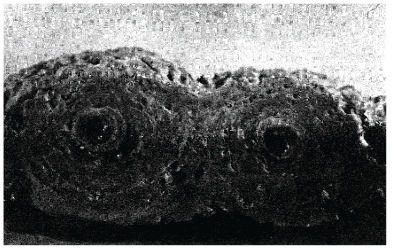 Cross section of mineral accretion on a wire-mesh substrate.
(Hilbertz, 1979; fig.2)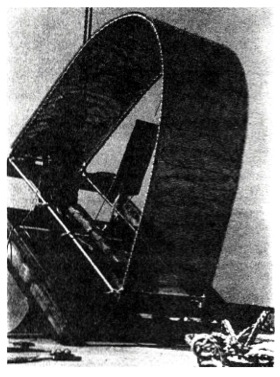 Catenary arch formwork prior to submersion and accretion.
(Hilbertz, 1979; fig.26)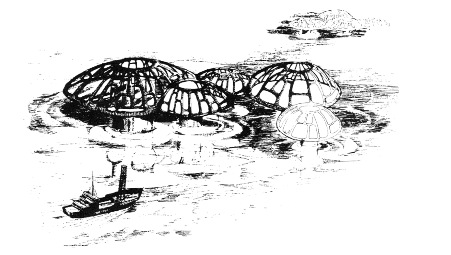 Sketched proposal for maritime architecture with accreted structural skeleton.
(Hilbertz, 1979; fig.26)
Citations
Margaret Cohen, "Fluid States" in Cabinet, Issue No.16: The Sea (Winter: 2004/2005), pp.75-82.
Keller Easterling, "The Confetti of Empire," in Cabinet, Issue No.16: The Sea (Winter: 2004/2005).
Wolf Hilbertz, "Electrodeposition of Minerals in Sea Water: Experiments and Applications," IEEE Journal on Oceanic Engineering, Vol. OE-4, No.3 (1979), pp.94-113.
Wolf Hilbertz, "Toward CyberTecture," Progressive Architecture (May 1970), pp.98-103.
McHale, John. "The Future of the Future: Inner Space." Architectural Design 37 (February, 1967), pp. 64-95.
Katavolos, William. "Organics," in Ulrich Conrads (Ed.), Programs and Manifestoes on the 20th Century Architecture (Cambridge, MA: MIT Press, 1970), pp.163-165.
Gordon Pask, "A Proposed Evolutionary Model," H.von Foerster and G.W. Zopf, Jr. (Eds.), Principles of Self Organization: Transactions of the Illinois Symposium, (New York: Harper, 1961), pp: 229-254.