"Rural-Urban Re-Inventions: Bridging the Gap Between China's Cities and Countryside" will exhibit research by five design firms and eleven architecture schools, including Syracuse Architecture.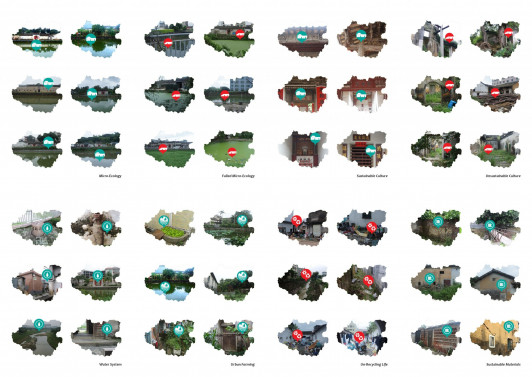 Work will be on public display from July 29-August 14, 2016 at the Shenzhen Design Center in Shenzhen, China.
The exhibition will largely focus on how massive-scale migration and urbanization over the past 30 years have impacted quality of life in China's villages and towns that once served as the foundation of Chinese culture and now struggle for economic survival.
During the past 30 years, hundreds of millions of people have moved from China's rural areas to its cities. While much research has been done on the impact of the migration on the nation's metropolitan areas, little has focused on the villages and towns. This exhibition will examine some of the research now being done on rural and urban China, and explore some of the design ideas being proposed to develop a healthier relationship between booming cities and the declining countryside.
The Syracuse Architecture exhibit, "From Guest to Host: Hakka Villages and the Pingdi Low Carbon City," focuses on ways in which current efforts to transform Pingdi—a sub-district in northeastern Shenzhen—into a "Low Carbon City" pilot zone builds on the knowledge and daily practices of traditional Hakka families. Under the leadership of Professor Fei Wang—assistant professor and coordinator of the Syracuse Architecture M.S. Architecture program—the research bring into question the relationship between sustainable development brought on by "official" modern interventions and the unique architectural typology and social structure of the past put in place by the Hakka people.
Says Wang, "Our research and exhibit aims to combine new green technology with traditional low carbon approaches for a future, better quality of urban life."
Participation in this event is an extension of Syracuse Architecture involvement with green technology discussion and development within the Low Carbon City. In June, architecture students' low carbon designs were on display at the International Low Carbon City Forum, also held in Shenzhen. Fei Wang's students have previously attended that conference and Wang, himself, has been a presenter of ideas. In 2015, in Syracuse, Wang's studio students tackled a competition challenge put forth by Shenzhen Institute of Building Research (IBR) to design the city's Future Low-Carbon Building and Community Innovation Experimental Center (Future Center) in the Pingdi district. Three of Wang's post-graduate students won second-place—plans moved forward for construction using their design, WESPACE.
The City of Shenzhen was established in 1979 by China's central government and the Guangdong provincial government as a new economic zone that would extend two hours beyond Hong Kong, along the opposite shore of the Pearl River. Since that time the City has grown from being a fishing village with a population of 20 thousand to being a global hub for design and technology, with a population of 18 million. In 2012 the Shenzhen International Low Carbon City was created in the Pingdi sub-district—the most underdeveloped area of Shenzhen and typical of many cities undergoing industrialization—as a flagship project of the EU-China Urbanization Partnership, with the intent of exploring explore sustainable improvements.
EXHIBITION PARTICIPANTS

Architecture Schools
Architectural Association Visiting School, Shanghai
Ecole Nationale Supérieure d'Architecture de Saint-Etienne
Harvard University Graduate School of Design
Peking University
Rice University
Syracuse University School of Architecture
University of California Berkeley CED
University of Hong Kong
University of Southern California School of Architecture
University of Southern California SOL Price School of Public Policy
University of St. Joseph Macau
 Practitioners/Design-Research
Stefan Al: Mall City: "Hong Kong's Dreamworlds of Consumption;" Stefan Al
BASE Beijing: Robert Mangurian / Mary-Ann Ray
ETH Zurich
Michael Sorkin Studio
Xu Tiantian, DNA