Syracuse Architecture student Lisa Chan, B.Arch 2016, has received Syracuse University's highest baccalaureate honor, the designation of University Scholar. Every year the University honors twelve graduating seniors—one representing each school— with this high distinction.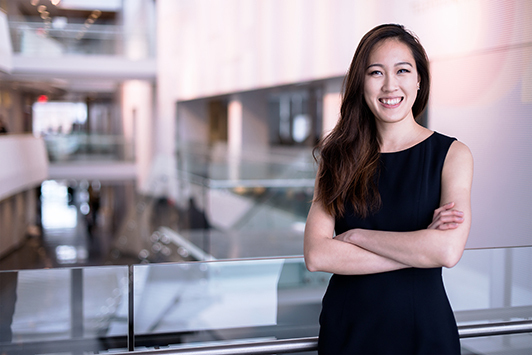 Lisa Chan, University Scholar; Photo by Derek ShinThe 2016 University Scholars will represent the entire graduating class at the Syracuse University Commencement ceremony at the Carrier Dome on Sunday, May 15.  On May 11, they will be honored at a reception hosted by Chancellor Kent Syverud and Dr. Ruth Chen in their home, at which time the scholars will receive special medallions to be worn at Commencement.
University Scholars are selected by the Syracuse University Scholars Selection Committee, based on criteria that includes coursework and academic achievement, independent research and creative work, a personal statement and faculty letters of recommendation.
"Lisa is a remarkably gifted student who has expanded, through her research and her thesis, the ways architecture is able to impact the world," says Dean Michael Speaks. "We're thrilled that she's received this award and honored to have her represent the 2016 graduating class."
Lisa Chan is an international student from Singapore who began her education at Syracuse Architecture after being recruited out of high school by the Singapore Ministry of National Development Urban Redevelopment Authority and receiving a scholarship by them to pursue her studies at Syracuse University.
Throughout her college career, Chan has demonstrated great intellectual curiosity and actively sought out any opportunity she could to expand her worldview. To Chan, being a University Scholar goes deeper than recognition of academic achievement. "I hope to live by example and inspire others through my actions," says Chan. "I've always been a firm believer in a well-rounded college experience. I feel it's important to interact with individuals from all walks of life, to read widely, and keep up to date with current events."
As part of the Renée Crown Honors Program, Chan found herself profoundly influenced by University Professor Carl Schramm after taking three of his classes, including Fast Cities and Failed Cities. "He never let us rest at ease with the memes of existing popular discourse. Instead, he provoked us to constantly question our positions and extend our exposure to a wider range of knowledge through literature, art, music, and travel."
Professor Schramm is equally impressed with Chan. "During the course of her studies and in subsequent encounters I had with her," he says, "I had ample opportunity to form an opinion of her intellectual competence, design talent, seriousness of purpose, engagement in the larger community, and character. On all vectors Lisa falls among the most talented students I have ever had the pleasure of teaching."
In her research, Lisa Chan takes on a provocative stance through her investigation of architecture as a tool to empower social reform. Her Syracuse Architecture thesis "Gamification of Gamification" proposes a series of unorthodox "hacktivist" design interventions to game the system of governmental controls throughout the city of Kuala Lumpur. Funded by a Crown/Wise-Marcus grant, Chan had opportunity for research-related travel this past year to Malaysia. She interviewed social entrepreneurs, political activists and academics to capture the tumultuous after-effects of the 1MDB scandal that resulted in public demonstrations and government crackdown.
While at Syracuse, Lisa has tenaciously applied herself to a wide range of activities beyond the classroom including the Architecture Student Organization, Peer Advisors, and Freedom by Design. She enjoys playing the piano, watercolor painting, and photography— documenting her various travels around the world. As part of her undergraduate experience, Lisa Chan has studied abroad in London and Florence, and interned in Syracuse, Singapore, and with the New York City Department of City Planning. She also volunteers weekly at the Syracuse Northeast Community Center and actively participates in Bible Study Ministries.
While Lisa Chan's future beyond graduation is still evolving, opportunity burns brightly on the horizon.  She has received acceptances to both Harvard and Cambridge (UK) for graduate study, and will return to Singapore to work for the government within the field of urban design after completion of her studies.
Chan's outlook is one of great promise, "I always hope to encourage others to apply themselves to avenues where they can make a difference; to rise above simply living for ourselves. Instead, think critically, have courage, and take action towards a greater cause!" (by Elaine Wackerow)