Marlon Blackwell
, Distinguished Professor and Department Head at the Fay Jones School of Architecture at the University of Arkansas, will present the Werner Seligmann Lecture on February 3 in Slocum Hall as part of the spring 2015 events line-up at the Syracuse University School of Architecture.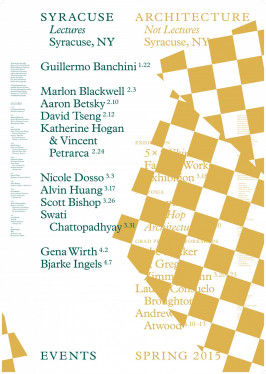 Blackwell's lecture, entitled "Transmutations," will use selected projects from his firm Marlon Blackwell Architects to demonstrate that a resilient architecture can be achieved as interplay between details, form, and place. In particular, he will illustrate the necessity of being responsive to environmental factors, the specificities of site, and sustainable design principles that ultimately provide an architecture that can be felt as much as it is understood, as immediate and tactile as it is legible, contributing to the fundamental civic dignity of communities.

Lecturers for the spring semester also include Aaron Betsky, recently named dean at the Frank Lloyd Wright School of Architecture, Nicole Dosso, a 1998 graduate of Syracuse Architecture and the senior technical director at SOM for 1 World Trade Center, and Bjarke Ingels from BIG.

In March, the School will also host a symposium called Towards a Hip-Hop Architecture organized by Assistant Professor Sekou Cooke and a faculty exhibition and panel discussion called "5 x 5 Chimeras."

All events are free and open to the public. Details are available in the Calendar section of the  website.