The Syracuse University School of Architecture has announced the fall 2014 line-up of events at Slocum Hall in Syracuse and the Fisher Center in New York City, including the 2014 Mayors' Institute on City Design and a symposium on the work of Graham Harman.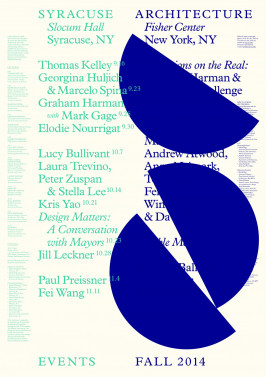 In Syracuse, lectures by visiting professors Thomas Kelley of Norman Kelley/Chicago, Georgina Huljich and Marcelo Spina from P-A-T-T-E-R-N-S/Los Angeles, Stella Lee, Laura Trevino, and Peter Zuspan/Bureau V and Jill Leckner/SLAB, both located in Brooklyn, and Paul Preissner from Paul Preissner Architects/Chicago, as well as Fei Wang from FW Studio will be presented. Elodie Nourrigat, Lucy Bullivant, and Kris Yao will also lecture. The School is hosting the east regional session of the 2014 Mayors' Institute on City Design, including a public event with presentations by eight mayors from post-industrial cities and responses from a panel of experts.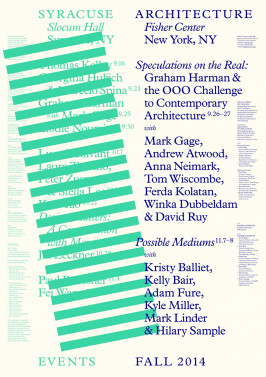 Graham Harman, Distinguished University Professor at the American University in Cairo, will lecture in Syracuse and participate in a panel discussion and an exhibition opening at the Fisher Center in New York City, organized by the Syracuse Architecture Graduate Program and the Architecture Program at PennDesign. In November, a symposium called Possible Mediums will include faculty from Syracuse Architecture, the Knowlton School of Architecture, University of Illinois/ Chicago, the Taubman College of Architecture, and GSAPP.