The 2014 Architecture Convocation speaker urged students to ask the right questions, challenge the status quo, and seek inspiration in unexpected places.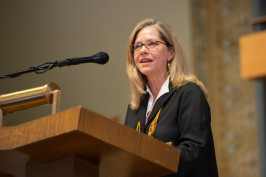 Martha Thorne, Associate Dean at IE School of Architecture and Design in Madrid/Segovia and Executive Director of the Pritzker Architecture Prize, addressed the Syracuse Architecture graduates on May 10, 2014. The address was published in the July/August 2014 issue of DesignIntelligence.
Thank you for welcoming me to Syracuse University.  It is a pleasure and honor to participate in this important event.   Although I immediately responded to Dean Speaks invitation, it is not easy or obvious to come up with themes for an appropriate talk on such a special occasion.  I could not go back and get inspiration or contrast ideas with my own my graduations, because I never attended those ceremonies.
So, when faced with any task, I usually begin by outlining the goals and objectives.  Of course, one would like the words to be meaningful and relevant.  Speakers would like have their words resonate with the audience and share messages of inspiration be remembered and called upon by students for years to come. 
One the other hand, I remember from my own youth how tedious it was when older adults try to give words of wisdom based on their own experiences. Being an independent person, I always wanted to chart my own course and thought that adults (whom I saw as totally out of touch with my reality) couldn't possibly give me relevant advice.   Finally, the pressure is great today because obviously this is a special, exciting day where everyone's emotions are high and we would probably like to think more about the celebratory activities of today and tonight.
Today, I would like to share with you four brief messages.  These ideas of course have to do with my own life experiences, are related to the field of architecture, but are also, in some ways, universal. Therefore I hope that they will be relevant to you today and also tomorrow.
My first comment can be summed up:  "Do not be afraid to have doubts and question assumptions ".   These concepts are not really the same, but do embody the need to reexamine – ourselves, our attitudes, ideas and what is generally accepted as "fact".  It we have doubts about ourselves, they should just be enough to encourage us to move outside our comfort zone to gain new knowledge or attempt something that may seem just beyond our reach.  So when asked to use a new software program you have just learned or make a presentation to a client or give a graduation speech, embrace these challenges, even though they may produce a slight nervousness.  This is positive.
It is especially important today, in the age of the internet with the abundance of information, to call into question assumptions.   The quality of information we have at hand varies.  We cannot assume that all information is factual. We should not blindly accept as objective and correct conclusions based on information, no matter how good the information is.   How many times have I told my students that Wikipedia is not always the best source or information and never should be the only one. 
I recently participated in a round table discussion about urban issues and big data.  It is really exciting to see that we can gather massive amounts of information from multiple sources, over large areas.   It is possible to mine existing data to employ and test against hypotheses.  However, I would like to add a word of caution about data and conclusions that are drawn.  We must remember that data does not equal objectivity or truth. Statistics can be used in a variety of ways. Numbers should not be used to justify actions in benefit of the majority and big trends do not justify forgetting the individual.
I would also like to bring up once again the adage often heard in architectural circles  that says,  Answers are important, of course, but first come the questions – the key is asking the right question.  When faced with a challenge, I encourage you to first rethink the definition of that challenge.   When someone states what appears the "obvious,"  such as "sustainability adds 15 % to the construction budget"   or  "we always do it this way,"   or  "here is the program brief,  we need an office building",  it may be time to begin asking the  question why.
I am reminded of the case Bjarke Ingels Group, BIG, the Danish firm that won a competition to build a waste and energy regeneration plant.  By questioning the starting point and challenging assumptions, Bjake Ingels and his firm were able to meet the original goals but also found a way to add public leisure amenities, an educational component and art to the project.  Not only did they provide a new ski slope for Copenhagen, they also used the project in its entirety to educate the public about waste and recycling.
A second word of advice I would like to pass along is to keep an open mind and look in unexpected places for inspiration, ideas, and opportunities.   
It is often common to think that following a very organized path or an established process with a defined set of steps will take us to our stated goal and produce the best outcome.   I would like to argue that often the most creative and inventive people look outside their own discipline for inspiration and ideas.    In architecture bio-mimicry is but one established field that uses biology as a source of ideas and solutions for applications in another.
I am also reminded of a recent conversation where the CEO of an important design, branding and communications firm who hired an accomplished ballet dancer instead of a graphic designer.  The dancer wanted to try something outside of her field.  When asked why hire  a dancer who could not use such software as Photoshop or cad who could not recite the typeface of letters or define font sizes,  this company felt that her unique way of seeing and understanding the world could contribute much more to the firm than someone with formal skills in graphics  or communication. She would quickly learn the tools but more importantly, her presence and ideas would take team members beyond their comfort zone to try new approaches and tackle problems from different angles.
By way of example I would like to tell you about a young designer from India visiting her grandmother and worried about the potential of becoming ill from drinking impure tap water or food that might not be safe, due to lack of refrigeration.  Upon drinking spice tea that her grandmother had prepared, Kavita Shukla found that she did not become sick. While not a chemist of biologist, she began to look into the spice concoction from her grandmother.  This led to the inventions of Fresh Paper, which is a simple sheet of paper infused with spices that can inhibit bacterial and fungal growth and thereby keep food fresh longer, without refrigeration.  
The potential of this invention is enormous. While the world's farmers harvest enough food to feed the planet, inefficiencies in food distribution leave 800 million hungry and lead to staggering energy and natural resource waste.   Spoilage contributes to inefficiencies in inventory, transportation, and labor across the globe.   With an estimated 9 billion mouths to feed by 2050, addressing the challenge of food waste is particularly urgent. Spoilage contributes to inefficiencies in inventory, transportation, and labor across the globe.   Today, more than 1 billion people in the most vulnerable communities live without access to basic refrigeration.  Fresh Paper, invented by a 17 year old woman is scalable, inexpensive, recyclable and modest with the potential of a huge impact.
This example of Kavita Shukla brings me to my third commentary.  Your training as architects gives you a wonderful set of skills and attitudes to employ not only professionally, but throughout life in general.   Architecture is the one field that is based on observation, understanding and imagination. You have chosen a field of study that combines science, art, critical thinking, and invention.    It is a discipline that intrinsically asks you to imagine a future not just in terms of ideas or concepts, but also in spatial terms.   You are asked envision a future and to build it. 
Today, I would challenge you that this also comes a great responsibility to effect change.  You have not worked so hard for all these five or more years studying a degree to merely repeat the past or be content with the status quo.  As you use your skills for thinking about future scenarios, you also have a responsibility to create environments, places and situations that are better than current circumstances.
As you know, in addition to my work in Academia at IE School of Architecture in Madrid, I am executive director of the Pritzker Architecture Prize.  When this international prize,  that is popularly known as the Nobel Prize of architecture, was founded in 1979,  it had as  one of its  goal to bring architecture into the public  realm  and  foster understanding and debate beyond the boundaries of the profession.  It was seeking to change perceptions about architecture.  I believe that it has contributed to making architecture, buildings and architects the subject of conversation on an almost daily basis.    I also believe that its international scope is clearly a positive aspect as it allow as us to learn from professionals around the world, reminding us that architecture is related to its context, but of course has universal goals of creating environments for people.
Architect Shigeru Ban, the 2014 winner of the Pritzker Architecture Prize, is and an outstanding architect of the highest caliber, who understands and practices his sense of responsibility and change.
Shigeru Ban, as many of you may know is a Japanese architect with offices in Tokyo, Paris and New York.  Born in Japan, but he studied architecture in the U.S. at Sci-Arc in California and Cooper Union in New York.   He is someone who is known for temporary structures, paper tube construction and great knowledge of and a creative approach to building structures.  He hates the word sustainability as he says all architecture means aspiring to principles of sustainability, and he uses locally produces materials whenever possible. 
The Pritzker Architecture Prize jury awarded him this year's honor for the quality of his designs and his commitment to helping people who have suffered through a disaster and are in need.  Back in the mid 90's in the face of genocide in Rwanda and the dramatic refugee situation, he wrote a letter the UN high commissioner, but received no response.  Then he went to the UN headquarters in New York City and finally was able to see someone.  The problem at hand was to provide housing for displaced refugees. The UN was attempting this with plastic tents supported by iron elements.  However, the iron was valuable and could be easily converted into money, so the elements were sold and the housing problem continued.  The second solution was to use wood and nearby trees were cut down. But as the refugee population increased, dangerous deforestation occurred… so this was not a solution.  Finally the third solution by Shigeru Ban to use cardboard tubes as structural elements, meant that multiple problems were addressed through one action:  The tubes are cheap, recyclable and produced almost everywhere in the world.  They do not have resale value and they mitigate the need to cut down trees. Finally, as structural elements they are sturdy and lightweight. Therefore the affected people, with very basic training, can assemble their own shelters.
The merit of Shigeru Ban is not just his humanitarian attitude, rather what the jury has said is:  His creative approach and innovation, especially related to building materials and structures, not merely good intentions, are present in all his works. Through excellent design, in response to pressing challenges, Shigeru Ban has expanded the role of the profession; he has made a place at the table for architects to participate in the dialogue with governments and public agencies, philanthropists, and the affected communities. His sense of responsibility and positive action to create architecture of quality to serve society´s needs, combined with his original approach to these humanitarian challenges, make this year´s winner an exemplary professional.
My fourth and last reflection is to be flexible and be firm.   Does this sound like an oxymoron?    No matter what career path you choose, whether it is in an architectural office, forming your own firm, working for an institution or company, not for profit or whatever professional setting you may choose,  and no matter what specific tasks you may be faced with – from  participating on a design team for a  building,  undertaking web page design,  working for a magazine or journal,  consulting to a real estate company or whatever –  you will be asked to devise solutions and strategies for various challenges. 
This is precisely what those trained in architecture can do well. After thorough research and study, analysis of the parameters and limitations, architects come up with proposals for future actions, buildings, places, environments and strategies.
Perhaps one thing that they didn't tell you at architecture school is that those parameters and limitations may pop up at anytime in the process and can and will change – often constantly.  Just imagine a client who changes his or her mind when you think you have almost agreed on a design.  Or a City Council that passes a new building requirement or a change in code,  or an unexpected economic situation like a sudden rise in the price of steel that impacts your budget.  You will be constantly be asked to re-think, re-design and come up with another alternative.
Do not be daunted by the need to modify, adjust or start over.  Remember your courses at Syracuse and all the crits. And remember all those times when you were furious with a professor for shooting down what you "knew" was a really creative and appropriate scheme.    Today, we have to thank the professors for that training.  Whether right or wrong, that is what the real world is like, only more extreme and severe than in architecture school.   So be flexible.  Find another alternative.  There is always another alternative and usually numerous ones.
Do not confuse a scheme or strategy or a design with yourself.  You are not the building, the product or the outcome.  You are one of many stakeholders who brings ideas, talents and concerns to the table.  And you are the professional.
Architects look for solutions to design challenges that others do not see, finding yet another creative solution in the face of road blocks.  Designing with passion, but being able to let go and not confusing the product with one's self is what it is all about.  
However, you also should remain firm in some areas.  Those areas are the ones that have to do with quality, ethics, responsibility and the underlying essence of your architecture.   So, I encourage you to go forward with an open mind and flexibility to propose solutions,   but never sacrifice what is truly important in terms of ethical principles and the essence of one's work.     
I would like to leave you with my hopes and best wishes for each and every one of you.  First to enjoy these days as you celebrate accomplishments with friends and family.  Look to the future with optimism.  Architecture is naturally an optimistic discipline that looks toward the future.  Practice, whatever career path you choose with passion. Finally, do all with a generosity of spirit and I know you will find great satisfaction.
Congratulations to students and thanks to parents, friends, faculty and the university community.  My best wishes and good luck for the future.