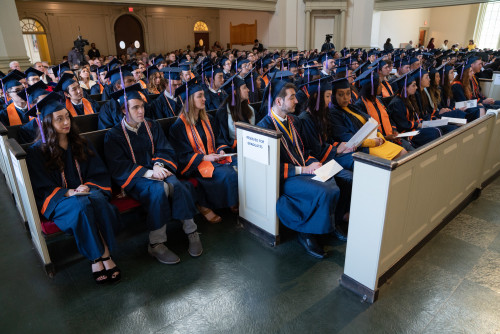 Class marshals Caroline D. Barrick and Ethan Russell-Benoit led the procession in a wonderful celebration of academic achievements of the Class of 2019 at Hendricks Chapel on Saturday, May 11.
We were joined this year by J. Michael Haynie, Ph.D., Vice Chancellor for Strategic Initiatives and Innovation; Barnes Professor of Entrepreneurship; IVMF Founder & Executive Director as our Convocation speaker. Vice Chancellor Haynie delivered the School's convocation address and gave a unique and important perspective as a client and collaborator of the School of Architecture.
In addition, our beloved Connie Caldwell received the Dean's Citation this year for her service and dedication to career placement for SoA students.
On Sunday, May 12, students were officially awarded their degrees at SU Commencement in the Carrier Dome.
Convocation photos + video 
Syracuse Architecture contracted with professional photographer studio Genesee Photo Systems to take pictures of each grad as he/she received a certificate of recognition. Images are posted on the Genesee Photo Systems website and available for purchase.
The Syracuse Architecture convocation ceremony that took place in Hendricks Chapel on May 11 was videotaped and is available for viewing on our Vimeo channel.
Awards announced at convocation
Undergraduate
Luther Gifford Prize in Architecture for Highest Academic Standing in Design: Sarah Catherine Beaudoin
AIA Henry Adams Certificate for Highest Academic Ranking: Ying Zuo
Alpha Rho Chi Medal: Chia An Mike Liu
Graduate
School of Architecture Graduate Assistant Prize: Philip Claghorn
MArch Graduate Award for Significant Contributions to the Program: Laura Clark
MS Graduate Award for Significant Contributions to the Program: Bingyu Zeng
AIA Henry Adams Certificate for Highest Academic Ranking: Nusrat Jahan Mim
Alpha Rho Chi Medal: Katharina Koerber
Britton Memorial Design Awards
Best Thesis: David Bullard and Carolina Hasbun Elias
Faculty Prize: Ahnaf Chowdhury and Anuradha Desai
Jury Prize: Furui Sun
Dean's Citations for Excellence in Thesis Design
Apoorva Rao
Ricardo Rodriguez Huerta
Minglu Wei
Ying Zuo
Amelia Gan Wen Jiun
Ian Mulich
Jos

é

Ricardo S

á

nchez Cruzalegui
Citation for Excellence in Thesis Design
Alexandra Allen and Scott Krabath
Sarah Catherine Beaudoin
David Bullard and Carolina Hasbun Elias
Ahnaf Chowdhury and Anuradha Desai
Olivia Humphrey
Sangha Jung and YoungJoon Yun
Danya Li
Chia An Mike Liu and Raul Sadhwani
Rose Maalouf
Nusrat Jahan Mim (Fall 2018)
Ian Mulich
Jos

é

Ricardo S

á

nchez Cruzalegui
Apoorva Rao
Ricardo Rodriguez Huerta
Furui Sun
Rasan Taher
Minglu Wei and Ying Zuo
Marda Zenawi
Honorable Mentions for Thesis Design
Noah Anderson
Christopher Autera
Mikayla Beckwith & Katherine Truluck
Laura Clark
Amelia Wen Jiun Gan
Rex Hughes & John Mikesh
Brian Hurh
Katharina Koerber
Lan Li & Yifei Li (Fall 2018)
Weiqiao Lin
Sai Lyu
Ian Master
Ryan Oeckinghaus
Kokeith Perry II
Ethan Russell-Benoit & Wilson Slagle
Erick Sanchez
Nuofan Xu & Ziyao Zhang