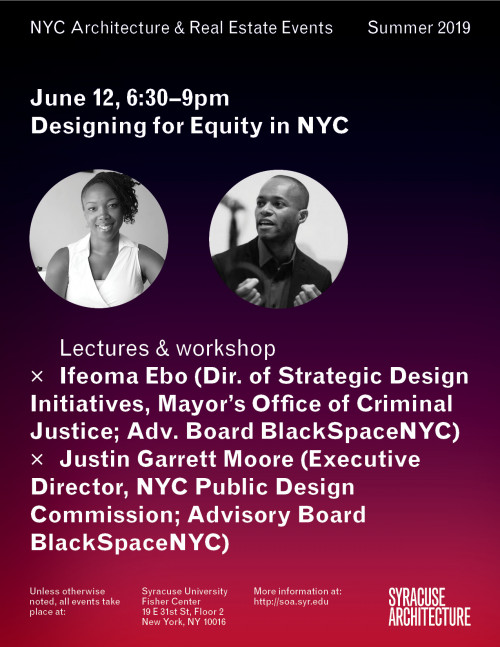 The relationship between the built environment and community impact has evolved significantly in recent years, growing from an awareness within communities and institutions to the emergence of work that explicitly addresses social equity. This event will provide different perspectives from the public and non-profit sectors on the challenges of implementing community-engaged design projects while ensuring applicability, sustainability and design quality. Ifeoma Ebo will present her work at the NYC Mayor's Office of Criminal Justice, leading interagency design to transform the public realm while addressing public safety and social justice in marginalized communities across NYC. She will also discuss the vision of the BlackSpace Urbanist Collective. Justin Garrett Moore will share his work as the Executive Director of the NYC Public Design Commission and co-founder of Urban Patch. His projects prioritize the quality of the public realm and fostering accessibility and diversity in public buildings, spaces, and art.
Ifeoma Ebo
Ifeoma Ebo is an urban designer and strategist with 20 years of international experience working at diverse scales including building, community and city design.  She is the Director of Strategic Design Initiatives with the Mayor's Office of Criminal Justice, a 2016 Forefront Fellow of the NYC Urban Design Forum and Next City Vanguard Fellow.  She serves on Advisory Boards for BlackSpaceNYC, the Association for Community Design and the Museum of Modern Art.  She holds a Bachelor of Architecture from Cornell University and a Masters in City Planning and Urban Design from MIT.
Justin Garrett Moore
Justin Garrett Moore is an urban designer and the Executive Director of the NYC Public Design Commission. He has extensive experience in urban design and city planning—from large-scale urban systems, policies, and projects to grassroots and community-focused planning, design, and arts initiatives. He is a member of the American Planning Association, the Urban Design Forum, Next City Vanguard, and serves on the faculty at Columbia University's Graduate School of Architecture, Planning, and Preservation.
RSVP below by 5 p.m. on Wednesday, June 12 if you plan on attending.
Registration for this event is now closed.