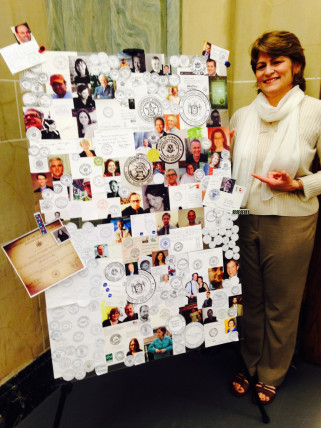 Connie Caldwell, Director of Career ServicesSyracuse Architecture provides an extensive program of career services to students, beginning in the first semester of study. 
coaching for summer job and permanent job strategies
support for the Architectural eXperience Program (AXP)
training for LinkedIn access to Alumni Network
training in salary negotiation & interviewing techniques
assistance with research of alternative career options
During summers and breaks, students may choose to work in paid internships to develop professional skills and earn hours for the Architectural eXperience Program (AXP). Most states require completion of AXP and the national Architecture Registration Exam before awarding state licensure.
To assist students and alumni/ae with this process, the following services are provided by the School of Architecture:
Resume Consultation and Registration
All students and alumni/ae seeking a summer or permanent position receive individual assistance with resume and cover letter writing, interviewing techniques, and guidance in the networking and research process. 
Intern Development Program
Each semester features 'Introduction to AXP' seminars, including application assistance. 
Employment Opportunities
When the School receives notice of an open position, the notice is posted by e-mail to all students and alumni, and advanced positions are also posted on the school's website.  
On-Campus Recruiting
Architecture firms are invited to interview students on campus each spring. 
LinkedIn.com 
LinkedIn offers the career details of many alumni/ae and students. Using the FILTERED SEARCH feature, users are able to search for alums in specific locations who are working on specific project types. 
Annual Alumni Salary Survey
We conduct a comprehensive salary survey of our recent graduates annually. To view the survey results, click here.