The school will recognize class of 2017 undergraduate and graduate degree candidates and present special awards.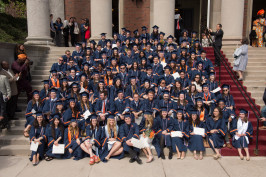 Class marshals Angela Copes and Jonathan Anthony will lead the procession. Architect and educator Hsinming Fung, AIA, co-founder of H+F, will deliver the keynote address.
Friday, May 12, 2017
12:00 pm-2:00 pm
School of Architecture Class of 2017 Luncheon
Slocum Hall first-floor atrium
Class of 2017, faculty, and staff RSVP by May 5: dwitterg@syr.edu
No charge
Saturday, May 13, 2017
9:00 am
School of Architecture Graduation Honors Convocation 2017
Hendricks Chapel, Syracuse University
10:30 am
Refreshments + exhibition opening
Slocum Hall
Shelf Life - 2017 Thesis Exhibition
The Image, The Object, The Table - Syracuse Architecture Faculty Exhibition
Convocation details
Degree candidates are required to wear a cap and gown.
Hendricks Chapel is wheelchair accessible.
Tickets are not necessary to attend this event.
Syracuse Architecture has contracted with a professional photographer from Genesee Photo Systems to take pictures of each grad as he/she receives a certificate of recognition. Images will be posted online on the Genesee Photo Systems website within the following week and available for purchase.
The ceremony will be streamed LIVE from Hendricks Chapel, beginning at 9am, for the benefit of family and friends unable to attend the ceremony. (We will update with link closer to the time of the ceremony.)
The ceremony will also be videotaped and available for future viewing on our YouTube channel.