Syracuse Architecture and the Syracuse University Fisher Center will present an APT (Architectural Practice Talk) joint event on Saturday, February 6 featuring talks by Dihua Yan and Yannan Chen of XON Studio and Qi Su, CEO of Modelo.
Yan and Chen will give a presentation about the project they designed for the 2015 Shenzhen Biennale, a vertical village in a shipping container. Qi Su will talk about Modelo's successful startup journey. Discussion will follow.
APT celebrates young design talents and creative minds in architecture, design and urbanism, and fosters a design community by curating a series of diverse and stimulating cultural events. Through a rich program of office tours, interviews, site visits and lecture series, APT is committed to nurturing design excellence and encouraging interdisciplinary dialogues through the power of online and offline experience. Founded in a small apartment in New York, today APT brings together over 450 industry influencers and reaches thousands of readers in the design community. The past speakers include Yung-Ho Chang (FCJZ), Billie Tsien, Wang Hui (Urbanus), Tong Ming (Tongji Unviersity), Lu Yichen (Link-Arc), etc.
About the Speakers
Dihua Yan and Yannan Chen co-founded XON Studio in 2015. Currently working at KPF New York as an architectural designer, Dihua received his Master of Science in Advanced Architecture from Columbia University in 2015 and Bachelor of Architecture from Illinois Institute of Technology. Also graduated from Master of Science in Architecture at Columbia in 2015, Yannan received his Bachelor of Architecture degree from Tongji University and now works at Asymptote. Shortly after the studio was founded, XON successfully curated their first exhibition at the Hong Kong/Shenzhen 2015 Biennale of Urbanism and Architecture.
Qi Su is the CEO and co-founder of Modelo, a design collaboration and workflow management platform for 3D design teams and CAD users, like architects, engineers and developers. Prior to Modelo, Qi was an architectural designer and a lecturer at the University of Southern California and Tongji University. Graduated from Harvard Graduate School of Design in 2013, he is the only master student in the school's history to win both the Peter Rice Prize for innovation in advancing structural engineering and the Digital Design Prize for creative use of computer graphics in relation to the design professions.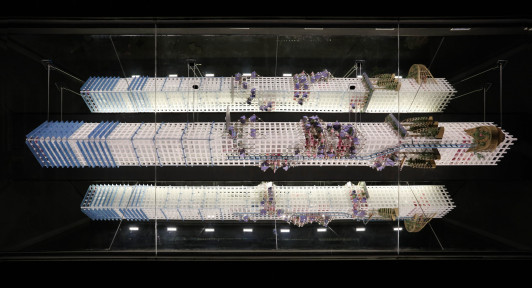 "At Modelo we are building a web-based design presentation and collaboration platform for architects and designers who work with 3D design tools like Rhino, Revit, SketchUp and others. Founded by an architect and an industrial designer fed up with the tools available to them, the company's mission from the start has been to bring joy and efficiency to the collaboration, presentation and project management functions of creative design teams."