From January 21 through February 18, 2016 the Rodger Mack Gallery in the 
Shaffer Art Building
at Syracuse University will feature the exhibition "Big Will and Friends," investigating the optical effects, figural relationships, and illusions found in wallpaper, and ways in which these domestic images and decorations shape space and impact our social relations.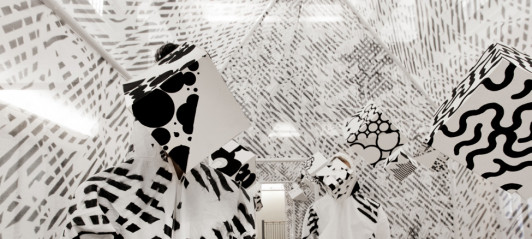 "Big Will and Friends" is a collaboration by Syracuse Architecture Assistant Professor Jonathan Louie and College of Visual and Performing Arts Professor Stephen Zaima. The opening will take place on January 21 at 5:15 pm and feature a series of dance performances choreographed by architecture student Stephanie White. "Big Will" is free and open to the public
Structured as a series of three 7-foot-by-7-foot shotgun house-type wallpapered rooms within the gallery's linear space, "Big Will" will invite visitors—"friends"—to be part of, and alter, the perceptual and visual experience of the objects in the space. Through his work, Louie exploits the logics of wallpaper design to construct a habitable series of rooms, imprinted wearable suits, and a series of wallpaper prints. Hung on the walls will be a series of architectural collages by artist Stephen Zaima.
Since its invention in the 18th century, wallpaper has been a popular medium for representing figures and historic symbols. It serves as an art form for altering architectural surfaces to perceptually alter the things we see. Says Louie, "Through two- and three-dimensional projections, the 'Big Will' installation challenges the ways in which decoration and adornment affects our perception of space—the floors, walls, and ceilings around us."
In addition to teaching, Jonathan Louie is co-director of Architecture Office. He is one of four founding organizers for the On the Road Project, a platform for charging architectural experimentation outside of the mu¬seum and institution. His graduate studies were done at the University of California Los Angeles where he graduated with distinc¬tion and is the recipient of the 2×8 Award and University Fellowship. In the fall of 2015 he will take up residency in Peterborough, New Hampshire as a Macdowell Colony Fellow.
As associate dean in the College of Visual and Performing Arts, Stephen Zaima is currently active with various global initiatives, especially in New York City.  He was coordinator of Syracuse University's studio arts program in London in 1987 and Florence in 1995-1996 and 1997-1998; more recently he has taught in Berlin.  Zaima received an M.F.A. from the University of California at Davis in 1971.
Dancers performing at the opening event are Syracuse University students Stephanie White, Cameron Spera, Charlotte Brennan, and Emily Pelletier.
The "Big Will and Friends" exhibition is made possible by generous support from the Syracuse University School of Architecture and the College of Visual and Performing Arts.