Presented by LUBRANO CIAVARRA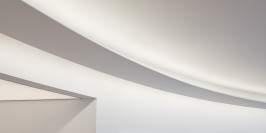 TWA Flight CenterThe Syracuse University School of Architecture invites New York City alumni and friends to join us for a design presentation on the TWA Hotel at JFK, to be presented by Anne Marie Lubrano of LUBRANO CIAVARRA Architects. The event will be hosted at the recently completed "TWA Lounge at 1 WTC", designed by the firm as a venue for MCR Development to showcase the TWA Hotel, an adaptive reuse of the Eero Saarinen-designed TWA Flight Center. The TWA Lounge is a contemporary space honoring the Flight Center, offering amenities including a cocktail lounge, panoramic views of the city, a Saarinen architectural model and troves of TWA memorabilia. A reception will follow the discussion.
Space is limited and we are expecting a capacity crowd. 
Questions? Contact Sherry Hayes at slhayes@syr.edu or 315.443.0271